New online child protection chief is appointed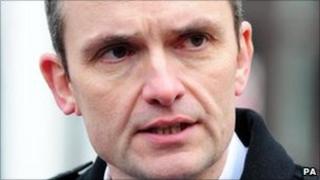 The Assistant Chief Constable of Lincolnshire Police has been appointed as the new chief executive of the Child Online and Exploitation Centre (Ceop).
Peter Davies' appointment follows the resignation of Jim Gamble last month.
He stood down in protest at the decision to merge the unit with the national Crime Agency.
Mr Davies is expected to take control of the child protection agency at the start of December on a two-year secondment.
Ceop was set up in 2006 to help find and convict paedophiles.
Mr Gamble had said he did not believe the decision to assimilate Ceop into the National Crime Agency was in the best interests of children and young people.
He recently told MPs that vulnerable children would lose out under "fundamentally wrong" plans to merge his unit in 2013.
He warned child protection issues would not be able to compete with terrorism, gun crime and drugs in a list of broader priorities.
And he said that costs would rise under the National Crime Agency, as internet service providers might begin charging for services.
Campaigners including Kate and Gerry McCann, the parents of missing Madeleine, have urged the Government to reconsider the move.
Mr Davies, 48, said: "Ceop is a terrific organisation which adds unique value to the many efforts carried out by different agencies, the voluntary sector, industry and partnerships to safeguard children and vulnerable people.
"These are challenging times across the public sector and I believe the mission of Ceop to safeguard children everywhere is as valid now as it always has been."
Mr Gamble added: "I am delighted for Peter Davies. He is coming to work with a fantastic group of committed child protection advocates and I wish him, in his new role, every success with Ceop for the future."
Mr Davies recently completed a secondment to Nottinghamshire Police where he was tasked with turning around poor performance at the failing force.