Fire-hit Lincolnshire plastics factory reopens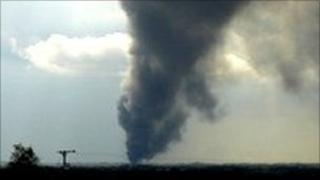 A major plastic bottle recycling plant which was damaged by fire more than a year ago has reopened in Lincolnshire.
Seventy firefighters spent two days trying to put out the blaze at the recycling plant in Hemswell Cliff near Gainsborough in August 2009.
Jonathan Short, of AWS Eco Plastics, said it was now the biggest facility of its kind in Europe.
The factory employs almost 100 staff, who sort the plastics and turn it into beads to make bottles from.
Mr Short said it was "time to draw a line" under the fire.