Families of five servicemen receive Elizabeth Cross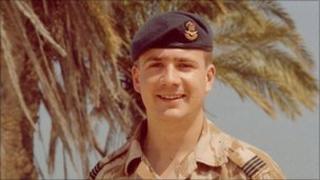 The families of five soldiers and airmen who died on active service have been awarded the Elizabeth Cross.
The relatives were presented with the awards at a ceremony in Lincoln.
The families receiving the medals were from Stamford, Alford, Grimsby, Market Rasen and Spalding.
The Elizabeth Cross is given to relatives of members of the armed forces who have been killed in action since the end of World War II or as a result of a terrorist attack.
Bomb blast
Nancy Taylor, who lost her first husband Flight Sgt David Dancy in 1958 near Singapore, said he had served with the Dambusters Squadron during World War II and was awarded the Distinguished Flying Cross.
He died after his Far East Air Force plane crashed during a search for shipwrecked sailors.
Lucy Martin, sister of Flight Lieutenant Simon Roberts who died in Northern Ireland in 1992, said it was a happy occasion as it was a chance to celebrate his memory.
He died when his Puma helicopter collided with an Army Gazelle helicopter while on approach to an army barracks in Northern Ireland.
The Elizabeth Cross and Memorial Scroll were awarded to his mother Carole Roberts.
Tina Sinclair, sister of Richard Sinclair who died in Northern Ireland in 1972, said he had only been serving in Belfast for two weeks when he was killed by a sniper.
The Elizabeth Cross and Memorial Shield were awarded to his mother Margaret Sinclair.
Lieutenant Gordon Graham joined the army in 1945 and was deployed as part of the in Middle East Land Force in Palestine in 1947.
He died trying to defuse a bomb near his base a few months later.
Private Geoffrey Curtis died in Belfast in October 1983 after a bomb hidden in a lamppost exploded while he was on foot patrol.
The award was presented to his father Rodney Curtis.