Skegness farm museum struggles to find thatcher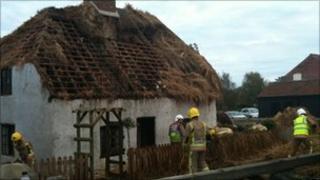 Repairs to a fire-damaged museum in Lincolnshire are being delayed by a shortage of experienced thatchers.
The thatched roof of a 250-year-old cottage at Church Farm Museum in Skegness was damaged on 22 October.
Lincolnshire County Council's head of heritage and regeneration Jonathan Platt said finding a qualified thatcher was proving difficult.
"We're actually having to look out of the county to find a company who can do the work in the near future," he said.
"It's a little more complicated than looking in the Yellow Pages. Because clearly we would like to restore it as quick as we can."
The rest of the buildings on the Church Farm site remain open to the public.
The main attraction on show is the 1760s farmhouse, furnished in an Edwardian style.