Lincoln Christmas market cancellation 'necessary'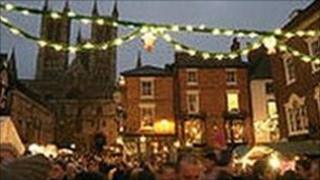 Business leaders in Lincoln say the decision to cancel the city's annual Christmas market was "unfortunate" but "absolutely necessary".
The market was due to run from 2 December until 5 December, but was cancelled because of snowy and icy conditions.
The event brings £10m to the Lincoln economy with as many as 160,000 people visiting the four-day market.
A meeting to discuss stallholder refunds will take place next week.
Insurance costs
Lincoln Business Improvement Group spokesman Matt Corrigan said: "Clearly it was a decision that was not taken lightly.
"All of those people would have thought long and hard about the decision and would not have made it unless it was absolutely necessary."
City council spokesman John Latham said it was still unclear what the exact financial impact would be for the authority.
He said the council would look at the insurance implications next week and consider what could have been done differently.
The cancellation was necessary because of concerns about site safety - including problems associated with electrical equipment buried under snow - and problems with transportation.