Alternative Lincoln Christmas market 'a success'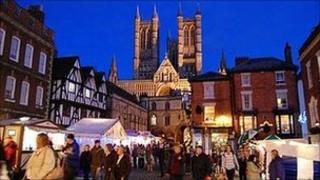 An alternative Lincoln Christmas market held after the main event was cancelled has been described as a success.
The annual market, which attracts about 150,000 visitors and makes millions of pounds for traders, was cancelled on 1 December due to snow and ice.
A replacement for some stallholders was held over the weekend at the Healthy Hub community facility on Beaumont Fee.
Organisers said more than 30 stalls had been visited by several thousand people and trade had been brisk.
Paul Rhodes, who works at the Healthy Hub, said it went some way to cover stallholders' losses.
"Obviously the cancellation of the official market was a blow - a lot of traders have come to rely on it to keep going over the Christmas period.
"And obviously they have not been able to take as much as they would have done there.
"We have still seen a good number of people come through the hub for the alterative market and a lot of the traders said they had done well out of it," he said.
He also thanked hotels in the area for promoting the event to guests who had come for the main market.
The city council said it was still investigating what the exact financial impact of the cancellation would be, the full insurance implications and what could have been done differently.