Mablethorpe bids for HMS Ark Royal to boost tourism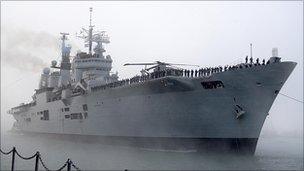 The recently decommissioned HMS Ark Royal could be moored off the Lincolnshire coast if tourism bosses have their way.
The Mablethorpe Area Partnership has written to Prime Minister David Cameron to ask if the former Royal Navy flagship could be moved to the area.
The 20,000 tonne aircraft carrier was axed as part of defence cuts.
The government has not replied to the proposal, but centre managers believe "it could help regenerate the town".
John Clarke, the vice-chairman of the partnership, said HMS Ark Royal would "generate its own income by attracting lots of people to the area".
"We can turn part of it into a hotel, we can partially use it as a convention centre and bring lots of people and businesses into the town," he added.
"We could also use it as a sea museum, reflecting the heritage of the nation and partially as an education facility so we can get lots of schoolchildren from all over the country and learn about our proud history."
HMS Ark Royal has served in Bosnia and the Gulf. It is capable of carrying 22 aircraft and more than 1,000 men and women.
Related Internet Links
The BBC is not responsible for the content of external sites.