Record grit reserves in Lincolnshire '60% gone'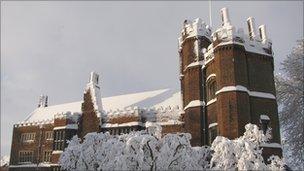 More than half the grit stocks held by Lincolnshire County Council have already been used, officials have said.
Despite starting the winter with 31,600 tonnes - 8,000 more than usual - the council said it had already used about 60% due to persistent low temperatures.
It had spread almost as much salt this year as it did for the whole of the 2007-08 winter.
The council said the next delivery was not due until mid-January so resources would be used carefully.
Councillor William Webb, Executive Member for Highways and Transport, promised to keep main routes open.
He said: "We'll keep on gritting whenever it's needed - be that 1pm on Christmas Day or Midnight on New Year's Eve - whilst ensuring that appropriate quantities are being spread and salt isn't wasted.
"We greatly value the assistance of farmers, contractors and even private individuals in supporting our tireless efforts to ensure safety for motorists and pedestrians."
The authority covers 1,869 miles (3,008km) of Lincolnshire's main routes, including all A and B roads.
While the amount of snow seen at the beginning of the month is not forecast for the next few days, temperatures as low as -7C (19.4F) are expected to be widespread.
Related Internet Links
The BBC is not responsible for the content of external sites.