Visit Lincolnshire 'will not survive cuts'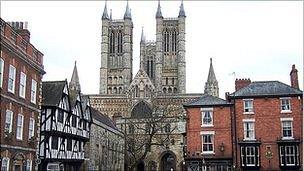 The group which promotes Lincolnshire's £1bn tourism industry has said it is unlikely to survive funding cuts.
Visit Lincolnshire fears millions of pounds could be lost after the county council said it was reviewing funding.
The £270,000 it gets from the council, along with £400,000 from the axed East Midlands Development Agency, makes up 70% of its core funding.
The organisation said it attracted investment, but the council said it had been forced to take tough decisions.
'Baffled and disappointed'
Visit Lincolnshire promotes the county as a holiday destination and also publishes guides to resorts and organises marketing campaigns.
In 2009/2010 it spent more than £1.5m.
Jon Grubb, chairman of Visit Lincolnshire, said: "I am astounded, baffled and disappointed by the decision to withdraw all of Visit Lincolnshire's funding.
"In essence, the county council has decided to close the county's tourism body yet seems to have no plan in place for how they will continue the task of encouraging ever more people to visit this fantastic county."
Richard Wills, director for development at the county council, said that in the current economic climate they had to decide carefully where to invest.
"We are saying the county council can invest in the product itself - around historic Lincoln, Boston, the waterways - we want to invest there.
"Then we want to help the industry market that, perhaps in different ways than through Visit Lincolnshire."
The proposal to withdraw funding will go out to public consultation in the new year before a decision is taken in February.
Related Internet Links
The BBC is not responsible for the content of external sites.