Final days for Nocton super dairy consultation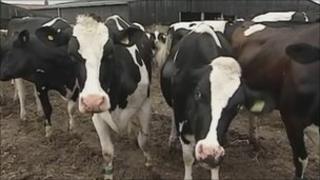 Residents in Lincolnshire are being reminded they have just a few days to put forward their views about plans for a so-called "super dairy".
The dairy would house 3,770 cows in Nocton, a revised number which was put forward after opposition from residents in April about plans for 8,100 animals.
Plans have toured the county but are currently at Metheringham Village Hall until 11 January.
The planning application will be considered in March.
If planning permission is granted, the facility would become what is thought to be the largest dairy farm in the UK.
A spokesman for North Kesteven District Council previously said: "We are aware that there will be a lot of interest in this application, which is why the measures are being taken to hold information events.
"We hope that this ensures everyone, who wishes to, has the opportunity to view, consider and comment on the proposals through the formal consultation process."