Lincolnshire County Council to cut 818 jobs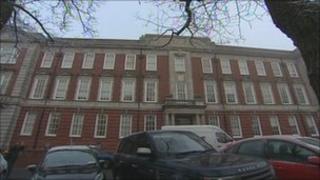 Lincolnshire County Council wants to cut 818 staff by the summer as part of its plans to save £125m from its budget in the next four years.
Consultation with 3,200 staff members over the proposals will start immediately, the council said.
A total of 522 of the jobs would be in the children's services and adult and children's social care.
The Conservative-led county council has already said it expected to cut about 1,000 jobs in total.
Public backlash
The proposals will see 818 staff taking either voluntary or compulsory redundancy - the equivalent to about 600 full-time jobs, the council said.
Council opposition leader Marianne Overton, an independent councillor, said the quality of services provided by the council will suffer.
"The government has put us in a very difficult situation where they have frontloaded the cuts that they've put on the councils - which means we have to make the reductions very fast," she said.
The union Unison said it was "horrified" by the announcement and was worried that the authority will cut more than the 1,000 posts they had initially predicted.
Unison spokesman John Sharman said: "The kind of job losses that the spending cuts are going to produce in this council - and across the public sector - are unjustifiable.
"As we see the impact across local communities, as we begin to see what these proposals mean, I think there's going to be a huge public backlash."
Councillor Kelly Smith said the council was working to keep the impact on frontline staff in children's services "as low as possible".
"Unfortunately staffing reductions are inevitable, however, wherever possible we hope that voluntary redundancies will minimise the number of compulsory redundancies that have to be made," he said.
The final budget will be discussed at a full council meeting on 11 February.