Youth service cuts plan in Lincolnshire sparks anger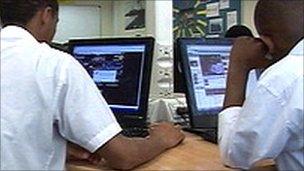 Proposed cuts to numbers of youth workers by Lincolnshire County Council are unacceptable, a Labour councillor has claimed.
The BBC has learned the council wants to reduce youth worker staff numbers by half, from 300 posts to about 150.
County councillor John Hough said: "I am so angry that these vulnerable young people will have the facilities and workers taken away from them."
The Conservative-led council would not confirm details of the cuts.
The council provides youth careers advice in schools and runs 24 youth centres across the county, with nine in the Lincoln area.
"If we abandon young people at this stage and put our money into tarmac - it doesn't seem to be much of a choice to me," Mr Hough said.
Councillor Patricia Bradwell, member for children's services, said: "There are no current plans to close any of Lincolnshire County Council's youth centres.
"However, we have started consulting with staff on new proposals for the delivery of youth work across the county.
"We are also supporting a Connexions service for the next year until a new government-led national service is brought in from 2012.
"We are in unprecedented times - and we safeguarded other areas of children's services directorate - but we have to cut somewhere."
She said £1m would be spent to encourage voluntary groups to take a higher profile in providing youth services.
The county council budget for youth services is just under £3m but the council wants to cut that figure by 65% in the next three years.
The council is planning to cut 900 posts as it aims to cut its budget by £57m in the next year and £125m over the next four years.
Related Internet Links
The BBC is not responsible for the content of external sites.