Police in Lincolnshire search for flightless bird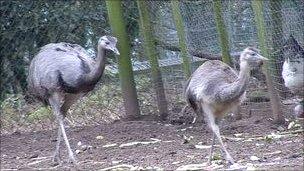 Police and RSPCA officers are trying to track down a flightless bird which has been spotted running around in part of Lincolnshire.
On Saturday, police received reports of a rhea, a South American bird which resembles an ostrich, spotted in the Thorpe Culvert area, near Wainfleet.
Officers said it could be injured as it might have been "glanced" by a train.
Anyone who sees the bird should contact police as it could kick with its clawed feet and hurt someone if threatened.
The birds can run very quickly, reaching speeds of up to 40mph (64km/h).
Related Internet Links
The BBC is not responsible for the content of external sites.