Pothole claims in Lincolnshire halve in three years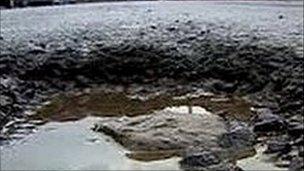 Lincolnshire County Council has paid out almost £76,000 in compensation to individuals relating to potholes and highways maintenance over three years.
But BBC research found the figure had almost halved from £33,025 for 2008/09 to £17,351 for 2010/11.
The Conservative-led council also faces a £367,000 cut in its highways budget this year but said it was confident roads could be kept safe.
The authority needs to make total savings of £57m for 2011/12.
In a statement, a spokesperson for the county council said: "Whilst it is always beneficial to receive an increased budget for highway maintenance, the council believes that the proposed settlement does allow maintenance of a safe and efficient highway network."
The highways budget in 2010/11 was £25,585,000 and is expected to be £25,218,000 for 2011/12.
Plans for Lincoln's Eastern Bypass have also been put on hold after the government announced its Spending Review in October 2010.
Planners have submitted new plans which will cost £88m rather than the original £130m. The government will decide by the end of the year which projects can go ahead.
In April 2010, Lincolnshire County Council was given an extra £2.7m by the government for road repairs.
Last week the government announced £100m was being made available to councils which had to repair roads after a particularly harsh winter.
The council is responsible for looking after about 5,600 miles (9,000km) of roads.
Related Internet Links
The BBC is not responsible for the content of external sites.