Alan Wood murder appeal prompts 50 calls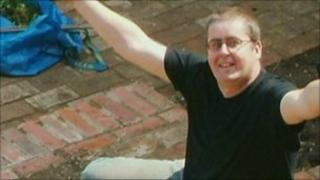 A fresh appeal for information about the murder of a Lincolnshire man on BBC One's Crimewatch programme has prompted more than 50 calls to police.
Alan Wood, 50, who had been tortured, was found dead in his home in Lound, near Bourne on 24 October 2009.
Monday's second Crimewatch appeal on the murder revealed police have a full DNA profile of a suspect which is not on the national database.
Mr Wood had been repeatedly stabbed in the eye and throat.
Police believe he was killed during the evening of 22 October and was tortured for the PINs to his bank and credit cards.
The cards were used in Stamford and Bourne in Lincolnshire over the next couple of days, although only a few hundred pounds were withdrawn.
Det Supt Stuart Morrison said: "This new evidence is very important. We want people to understand fully the horror of what's happened here.
"I didn't take the decision lightly to release the information I have and it's backed up with some new CCTV material I want people to look at."
The Crimewatch programme featured a reconstruction, along with the new CCTV images and the interview with Mr Wood's mother Maureen.
The images show a man wearing a cap and scarf in West Street, Bourne around 2100 on 22 October just before Mr Wood's bank card was used to withdraw cash.
Police revealed they have obtained a full DNA profile from blood found at the scene which does not come from Mr Wood and is not on the national DNA database.
They are also searching for a Converse boot or trainer not available to buy in the UK, which left a muddy footprint at the scene.
Lincolnshire police spokesman James Newell said the programme had prompted more than 50 calls from the public with more expected by e-mail over the next few weeks.
He said: "We still have a dedicated team of 40 detectives working on this a year on.
"It's a massive investigation. Over the last year we've interviewed 11,000 people and reviewed 5,000 hours of CCTV and that's an ongoing process - there's still a huge amount of work going on."