Enhanced images of suspect in 'brutal' Alan Wood murder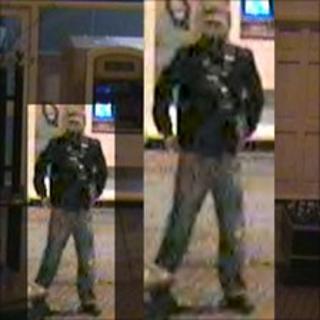 Police investigating the "savage" torture and murder of a Lincolnshire man have released digitally-enhanced CCTV images of a suspect.
Alan Wood, 50, was bound with tape and stabbed repeatedly in the eye and throat at his home near Bourne in 2009.
He is thought to have been tortured for his bank card Pin numbers. Police said the violence was "disproportionate" for the small amount of money gained.
The images show a man in Bourne shortly before Mr Wood's cash was withdrawn.
The suspect, who is wearing a cap and scarf, was walking along the town's West Street at about 2100 GMT on 22 October, not long after the murder took place.
Mr Wood, who ran a small gardening business and also worked nights filling shelves at Sainsbury's, had no known enemies, according to Lincolnshire Police.
He was subjected to a "brutal and sustained" attack at his home in Lound, during which he had his throat cut a number of times and an attempt was made to decapitate him.
Officers have described the investigation as "one of the most disturbing" they have ever worked on.
At the end of February, the case was featured on the BBC's Crimewatch for the second time, when detectives revealed they had a full DNA profile of one of the attackers from the scene of the crime.
Four men have so far been arrested in connection with the murder.
Three have been released from bail without further action while one, aged 20, remains on police bail.
Anyone with information about Mr Wood's death can contact police or Crimestoppers anonymously.