Lincoln man banned from English Defence League meetings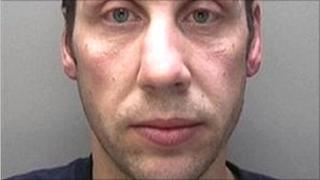 A man whose racist abuse caused two children to "cling to their parents in fear" has been banned from attending any English Defence League meetings.
Shane Overton, 38, of Parker Avenue, Lincoln, was given a 10-year Criminal Anti-Social Behaviour Order (Crasbo) at Doncaster Crown Court on Wednesday.
He admitted a racially-aggravated public order offence committed on his way home from an EDL demonstration.
Overton has also been banned from all trains and railway stations in the UK.
Lincolnshire Police said the order followed an offence after Overton attended an EDL demonstration in Newcastle on 29 May last year.
'Extreme views'
He was arrested by British Transport Police following an incident on a train at Doncaster when his victims were subjected to racially offensive language while waiting for their train.
The local CPS Criminal Asbo lead, Yvette Levy, said: "No-one should be made to feel fear or concern for their safety purely because of the language they speak or the colour of their skin.
"The extreme views expressed by Overton caused two children to cling to their parents in fear."
The terms of the order mean he cannot travel on any public railway or enter any railway station, contact the victims in the case or knowingly participate in, organise or control any demonstration, meeting gathering or website concerning the EDL.
Overton is also banned from entering or loitering outside any mosque, Islamic prayer room, meeting room, school, cultural centre or festival site.
Ch Insp Tom Naughton, from British Transport Police, said: "Racist abuse of any sort is unacceptable, but the nature of Overton's insults levelled at a family minding there own business sat on the platform were despicable.
"Everyone has the right to travel without fear of abuse or threatening behaviour, and when that behaviour is further exacerbated by racist undertones, our stance becomes firmer still."