Wedding couple's royal clash 'a bonus'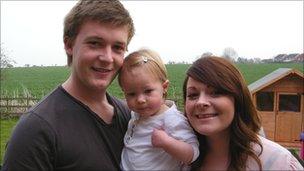 A Lincolnshire couple who are getting married on the same day as Prince William and Kate Middleton have described the coincidence as a bonus.
April Fox and Ben Brough from Welton chose 29 April long before the royal wedding was officially announced.
Miss Fox said they were initially a bit shocked, but have decided to stick with the date because it is "special".
She is also pleased their guests do not need to book a day off work, due to the extra bank holiday.
Miss Fox's stepfather had joked that the royal wedding could co-incide with their big day.
"When he joked about this I didn't really think it would be," she said.
"When it was announced we were a bit shocked but now we think it will be nice to have something special connected with our wedding day.
"Now the day is a bank holiday that's a bonus and has freed it up for everyone."
The couple said they were not worried that guests might be more interested in watching the royal wedding because the times do not clash.
"We're getting married in the afternoon and Prince William and Kate Middleton are marrying in the morning so our guests will have a chance to watch the royal wedding earlier," said Miss Fox.
Related Internet Links
The BBC is not responsible for the content of external sites.