Bishop calls for politicians to tackle poverty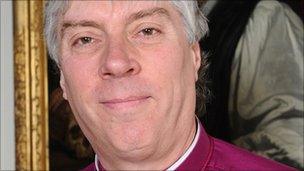 The Bishop of Grantham has called on politicians to do more to tackle poverty in the UK.
The Rt Rev Tim Ellis made his plea after the government announced plans to increase social mobility and reduce child poverty.
In an interview on BBC Lincolnshire Dr Ellis accused governments of "not addressing the real problems".
He added: "If you already have access to money you are more likely to succeed".
Bishop Ellis added: "I've worked in some of the poorest parishes in inner city Manchester and the evidence is that if you don't have money you generally won't achieve your potential."
"Around 10% of the population are extremely poor and don't have access to the more aspirational things in life. That's the real problem we need to address.
"I think the solution is to have a greater distribution of wealth and find a fairer way of rewarding people for the work that they do.
The bishop also questioned whether people should all aspire to work in "top million pound jobs".
"Our values should be more about community and not just about creating wealth," he said.