Herbert Ingram anniversary celebrations 'not priority'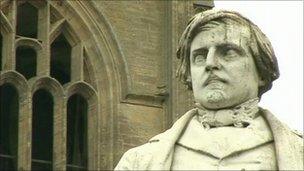 Boston Borough Council has ruled out funding special celebrations to mark the 200th anniversary of the birth of one of the town's most famous sons.
Herbert Ingram is credited with bringing fresh water, gas and the railways to Boston and transforming the town into a large industrial centre.
Victorian Cemetery Trust Chairman Jonathon Brackenbury said more needs to be done to celebrate his achievements.
The council said its current priority was maintaining services.
The son of a butcher, Ingram went on to become Boston's MP in 1856.
"He was instrumental in Boston expanding enormously in the 1840s and 1850s from a sleepy market town into a large industrial centre and would have been as well known as Alan Sugar or Richard Branson if he was alive today," said Mr Brackenbury.
Ingram, who founded the London Illustrated News - the first newspaper to have pictures - "deserves to be honoured a little bit more as one of the most famous Bostonians", he added.
In a statement the council said: "While Boston Borough Council recognises the important place Herbert Ingram MP had in the history and development of Boston, the current climate - when the council's priority is maintaining essential services - does not allow for the council to fund a commemoration event."
Herbert Ingram's life and achievements, especially in relation to Boston borough, will be recorded on the council's website and in a special feature in the council's monthly electronic newspaper, the Boston Bulletin, on the anniversary date - 27 May.
Related Internet Links
The BBC is not responsible for the content of external sites.