Egg throwing wins Where Else But England awards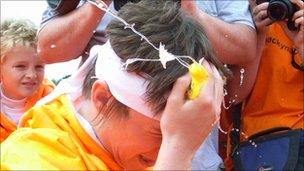 A Lincolnshire egg throwing contest has won first place in the Where Else But England awards.
The public poll held by Enjoy England and The Sun newspaper named The World Egg Throwing Championship as "England's quirkiest event".
The event, held at Swaton near Sleaford, narrowly beat the World Pooh Sticks Championship to take the title for the second year in succession.
World Egg Throwing Federation president Andy Dunlop said it was a proud day.
"We beat The Dorset Knob Tossers and The World's Greatest Liar Competition, who weren't very convincing to be honest.
"Although we were a bit disappointed that the award refers to us as the 'quirkiest event' when we take our egg throwing very seriously indeed."
Eggs fired in the Trebuchet event can reach speeds of 100mph (161km/h).
"We have five different disciplines and we have also applied for Sport England to recognise egg throwing as an official sport," Mr Dunlop said.
"If we are successful we are hoping to be included as a demonstration sport in the 2012 Olympics.
"Egg throwing is very similar to sports like javelin except we aim to catch the egg as well," said Mr Dunlop.
Money raised during the event, which takes place on Sunday 26 June, will be donated to local charities.
Related Internet Links
The BBC is not responsible for the content of external sites.