BBC unveil entry for the Belchford Downhill Challenge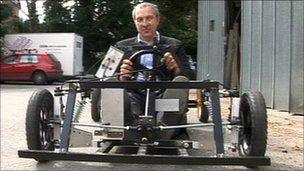 BBC Lincolnshire presenters have entered a kart into a race which takes place in the Lincolnshire Wolds.
The Belchford Downhill Challenge is for home-made karts powered only by gravity on a time challenge down a steeply sloping closed public road.
The BBC's gravity-kart has been designed and built by station engineer, Adam Keen.
It will be raced by presenters Rod Whiting, Nicola Gilroy, the BBC website's David McKenna and Mr Keen.
Rod Whiting said he is looking forward to the challenge: "It's a bit like the cheese rolling in Gloucestershire. Well, we have our own big sport's event - The Belchford Downhill Challenge and of course we're going to support that.
"It's part of our cultural heritage and we're raring to go."
This is the 10th year that the race has been held and the first year that the BBC has officially entered the challenge.
Mr Keen still needs to build a body around the kart's chassis, while listeners to BBC Lincolnshire have been invited to suggest names for the vehicle.
Related Internet Links
The BBC is not responsible for the content of external sites.