'Sandwich safety' apology from Lincolnshire Police boss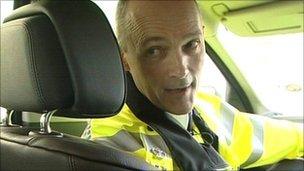 Lincolnshire Police's Chief Constable Richard Crompton has apologised over "unnecessary" advice given to officers about how to pack their lunches.
Guidance on keeping lunchboxes cool and avoiding out-of-date food was issued to 1,219 officers and other staff.
Mr Crompton admitted they "gave the media a daft health and safety story".
The information came to light in a recent blog by an anonymous inspector, based in the South East, who uses the pseudonym "Inspector Gadget".
Lincolnshire Police Health & Safety Guidance Note 11 - Packed Lunches was issued about three or four years ago when the police were making savings by no longer providing lunches for people attending training, according to Mr Compton.
In a statement to BBC Lincolnshire, he said: "I don't believe that our staff need to be told how to make their sandwiches.
"The advice was not necessary and we seem to have given the media another daft health and safety story, sorry."
The information came to light as the force looks to save £20m over the next four years, including the possible loss of about 70 police posts and 100 support staff.
Related Internet Links
The BBC is not responsible for the content of external sites.