Beer drinkers raise cash for Lincolnshire lifeboat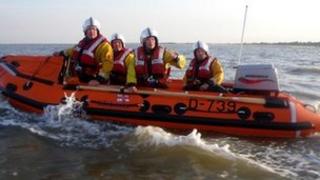 A lifeboat funded by beer festival patrons in Cambridgeshire has been dedicated in a ceremony on the Lincolnshire coast.
The new £31,000 inshore lifeboat is operated by the Royal National Lifeboat Institution (RNLI) from Skegness.
The boat will be named the Peterborough Beer Festival IV.
About 50 people from the Peterborough chapter of the Campaign for Real Ale (CAMRA) travelled to Skegness for the naming ceremony.
Peterborough Beer Festival IV went into service at Skegness last September and has already been used on 11 rescue launches.
Claire Botton from CAMRA said: "Peterborough may not be on the coast but people in the area are very aware of the wonderful work carried out by the RNLI."
The fundraising for the new lifeboat was carried out at the beer festival over four years with a total of £37,000 raised, enough to pay for the boat and its first refit.
The Peterborough RNLI branch has been fundraising at the beer festival for 21 years and has collected almost £176,000 which has been used to pay for four inshore lifeboats.