Water crash mother 'left son to save daughter'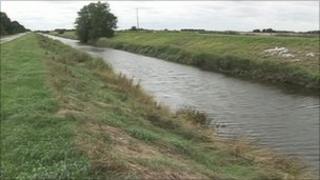 A mother has told how she had to leave her son to save her daughter as their car crashed into a water-filled ditch.
Rachel Edwards' car, carrying Jack Brennan, 16, and Isabella, two, hit a pothole at Midville, near Boston, Lincolnshire, on 19 August 2010.
She told an inquest at Horncastle Registration Office how she got Isabella out but had to hold her above the water and could not get to Jack.
Coroner Paul Smith recorded a verdict of accidental death.
He told the hearing he would be writing to Lincolnshire County Council over his concerns about the state of the road.
Mrs Edwards, originally from Derbyshire but living in Essex, was six months pregnant at the time.
After getting lost and following directions from a satellite navigation system, she found herself driving along a bumpy country road.
She described the crash to the inquest.
"I know it went into a pothole and the car swung to the right and I don't know why it went to the left, I don't know if it went down a bump and then down another pothole.
"I don't know why it went into the water, I don't know why."
She added: "Within a few seconds it just tipped and I knew we were in trouble and then the water was coming in, and it just went pitch black."
Getting out through an open window in the upturned vehicle, she swam to the surface, then dived back down and managed to free Isabella from her car seat.
She said: "That's when the rushes pulled us both back down again and when we both came back up again I knew how terrified she was, I wanted to go back in but had nowhere to put her.
"I knew if I balanced her on a wheel she would fall so I could not go back in to get Jack.
"So I just waited and waited."
Two of Jack's friends, who were also in the car, told the inquest the potholes were bad enough to throw Isabella around in her car seat.
Both of the friends managed to escape the crash and ran for help.
A police officer dived in to the dyke to find Jack but he was declared dead in hospital later. A post-mortem examination showed he had died from drowning.
Later police tests found that in going more than 30mph a driver would experience "discomfort and hazards", while a speed greater than 40mph would be unsafe.
The coroner said he was satisfied Mrs Edwards was not speeding and lost control on a road that was "little more than a dirt track".
Mr Smith added he would be writing to the county council to express concern about the condition of the road and the lack of warning signs.