Parts for Louth superbike team delayed by Japan quake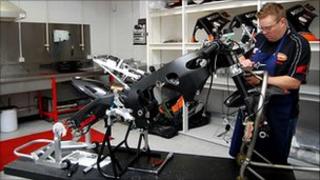 A superbike racing team has said it faces long delays in receiving spare parts because of the earthquake and tsunami which hit factories in Japan.
The Louth based HM Plant Honda team have been getting ready for the British Superbikes season which gets under way this weekend at Brands Hatch.
The Head of Honda racing in Europe, Neil Tuxworth, said that they have no idea yet how it will affect the team.
He said if the situation continued they would look at recycling spare parts.
Mr Tuxworth hopes they will have a better idea in two weeks and will "deal with it accordingly".
He said their problems had to be put in perspective as it was "only a very minor part" of Honda's business.
Superbike champion
"It was more the car factories rather than the motorbike factories that were damaged but even the parts for us will be very slow to come through this year," he said.
Honda's UK car factory in Swindon has already halved production because of the shortage of parts.
The current British Superbike champion, Ryuichi Kiyonari, from Japan, is part of the team.
"He'd been living in Louth for two months but his wife and child were actually travelling over on a plane the day the earthquake hit Japan," Mr Tuxworth said.
"He's been in constant contact with his family. Luckily no members have been injured but he also has quite a few friends who have been heavily involved in the earthquake."
Mr Tuxford said the team was looking forward to the racing season.
"Despite the parts coming through slowly this year, we feel as though we have the strongest team we've ever had since we started competing in the championship," he said.