'Repairs were due' on pothole crash death road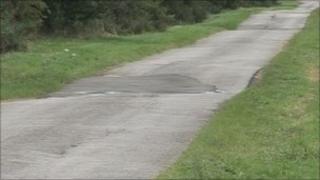 A road where a teenage boy died after his mother's car hit a pothole and crashed into a water-filled ditch was due to be repaired.
Jack Brennan, 16, drowned when Rachel Edwards' Citroen Picasso veered into the dyke near Boston, Lincolnshire.
Speaking after an inquest into his death, the county council said road repairs were being planned at the time.
Deputy coroner Paul Smith said he would write to the authority about the lack of signage about the uneven surface.
He also questioned the value of satellite navigation, after it emerged that Jack's mother was directed onto the "dirt track" by her car's system.
Mrs Edwards, originally from Derbyshire but living in Essex, was six months pregnant at the time.
After getting lost and following the sat nav's directions, she found herself driving along the "bumpy" country road at Midville on 19 August last year.
She told Tuesday's inquest at Horncastle that the car "went into a pothole and swung to the right", before "everything went dark" when it crashed into the water.
Getting out through an open window in the upturned vehicle, she swam to the surface, then dived back down and managed to free her two-year-old daughter Isabella from her car seat.
But she had nowhere to leave the toddler above water, so could not return to the car to save Jack.
Andrew Ratcliffe, area highways manager at Lincolnshire County Council, said: "This was a tragic accident and our deepest sympathies are with Jack's family.
"Significant engineering works were required to repair this whole stretch of road, something that takes time to prepare, along with a number of others across the county.
"These repairs, which have now been completed, were sadly in the process of being planned and programmed at the time of this accident."
Two of Jack's friends, who were also in the car, managed to escape.
Deputy coroner Mr Smith recorded a verdict of accidental death, and said he was satisfied Mrs Edwards was not driving too fast.
He said: "There was no signage warning of uneven road surfaces for some distance, possibly a distance of five miles."
Mr Smith acknowledged the road's condition would have played a significant part in the accident and said he would write to the county council to raise his concerns.
He also questioned the part played by Mrs Edwards' sat nav, saying: "Whilst all systems are for guidance and not to be followed slavishly, I must question the value of any system which directs traffic away from an arterial route to a B road, then on to a C road, then on to what was little more than a dirt track."