Boston man jailed for life for wife's stabbing murder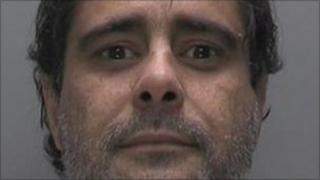 A Lincolnshire man has been jailed for life for killing his estranged wife and attempting to murder her new partner.
Isabel Trindade, 36, died in hospital after being found with stab wounds at a house on Argyle Street, Boston, on 7 October 2010.
Antonio Goncalves, 45, of Ingram Road, Boston, was sentenced at Lincoln Crown Court to life imprisonment after he was found guilty of her murder.
He was told he must serve a minimum term of 28 years.
Ms Trindade was stabbed 21 times in front of a four-year-old child while she was visiting a friend's home.
'Brutal' killing
Judge Michael Heath said Goncalves had carried out a "deliberate and determined" killing.
He said the victim was utterly defenceless and had died a "brutal" death.
Goncalves was also given a 15-year jail sentence, to be served concurrently, for the attempted murder of Ms Trindade's partner, Christopher Ayres.
The court heard Mr Ayres was stabbed while trying to protect Ms Trindade. The wound penetrated his bowel and was a millimetre from severing an artery.
Goncalves had repeatedly threatened to kill Ms Trindade after their six-year marriage broke down, the jury was told.
The couple, originally from Portugal, had moved to Lincolnshire to start a new life.
During the 12-day trial, which concluded on Tuesday, Goncalves claimed he acted in self defence after being attacked by Ms Trindade but Judge Heath said this would have been laughable but for the dreadfully serious nature of the murder.
He said that Goncalves had not uttered a single word of remorse for what he did.
Speaking after the case, Det Supt Guy Collins, of Lincolnshire Police, said: "The sentence reflects the severity of the crime.
"Isabel has cruelly had her life taken away from her and there are three children who now have no mother, and their father is serving 28 years in prison so no-one's won out of this."