Lifeboat volunteer is recognised for 40 years service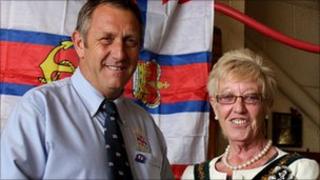 A Lincolnshire man has been recognised for his 40 years volunteering for the Royal National Lifeboat Institution.
Ray Chapman is one of the RNLI's longest serving volunteer crew members, joining on his 16th birthday in 1971.
Skegness Town Council presented Mr Chapman with a silver Jolly Fisherman statuette.
He said the award was "a complete surprise and a great honour" and it was a "huge pleasure" to be involved with the RNLI.
Mr Chapman has served as crew on both Skegness lifeboats; As senior helmsman on the town's inshore lifeboats and since 2000 as second coxswain on the all weather Lincolnshire Poacher.
'Great honour'
Following the award, which was presented by Skegness Mayor, councillor Sue Binch, he said: "This was a complete surprise and a great honour for me to be recognised by the town like this.
"It doesn't seem like 40 years. It's been a huge pleasure to be involved with the lifeboats and to work with so many other dedicated volunteers."
Mr Chapman is now the RNLI's second longest-serving crew member among the charity's volunteer crews covering the UK and Republic of Ireland.
He has a further four years service ahead of him before his retirement in 2015.