Boston murder victim complained of husband's threats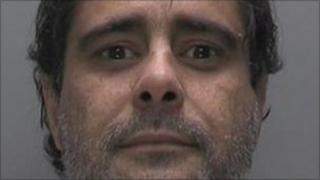 A woman murdered by her estranged husband had complained to police that he had threatened to kill her.
Isabel Trindade, 36, was stabbed 21 times in front of a four-year-old child while she was visiting a friend's home in Boston, Lincolnshire.
Antonio Goncalves was given a life term at Lincoln Crown Court on Wednesday.
The Independent Police Complaints Commission (IPCC) has launched an investigation into the Lincolnshire force's prior contact with Ms Trindade.
Goncalves, 45, of Ingram Road, Boston, was found guilty of her murder earlier this week, and told he must serve a minimum term of 28 years in prison.
He was also given a 15-year jail sentence, to be served concurrently, for the attempted murder of Ms Trindade's partner Christopher Ayres, who was stabbed while trying to protect her.
Judge Michael Heath said Goncalves had carried out a "deliberate and determined" killing at the house on 7 October 2010.
The IPCC said Lincolnshire Police had referred the case to them on 8 October because of "prior police contact with the woman".
A spokesman said: "After assessment the IPCC decided to begin an independent investigation. The investigation is ongoing but we will make the findings public in due course."
Goncalves' trial heard that he and Ms Trindade, both originally from Portugal, had moved to Lincolnshire to start a new life, but their six-year-marriage broke down.