Peregrines sitting on four eggs at Lincoln Cathedral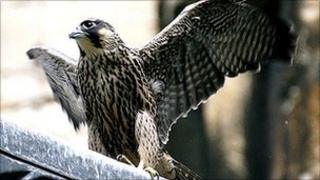 A pair of peregrine falcons are sitting on four eggs after returning to Lincoln Cathedral.
This is the fifth year that the same pair of birds have nested on one of the cathedral's towers.
Starting on Good Friday, the RSPB will run a viewpoint, every weekend until August, outside the cathedral so visitors can see the peregrines.
RSPB volunteer Eddie Chandler said they hoped to see at least three chicks from the four eggs.
BBC Lincolnshire, in partnership with the RSPB, have set up a webcam watching the peregrine falcons over the coming months.
Mating pairs favour high trees but also nest in built up areas, most often on the tallest buildings.
Peregrine falcon numbers rapidly declined in the 19th and 20th centuries due to illegal shooting and use of certain pesticides on farms.
Now as a protected species, the birds are enjoying a resurgence.
However in March a falcon was found dead in Lincoln's Brayford Pool. Examinations showed it had been shot.
Anyone convicted of harming a falcon can be fined up to £5,000 and jailed for up to six months.