Memories of the 1948 Olympics and a teaspoon souvenir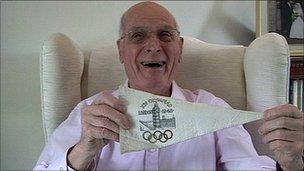 An 86-year-old Lincolnshire man who was a spectator at the 1948 Olympics has described how the lack of any security meant he was able to approach some of the world's most famous athletes.
As a 23-year-old, Edgar Candlish, from South Scarle near Lincoln, spent a week in London watching events.
Tickets cost six shillings and six pence for a whole day's events.
"I was able to walk right up to the barrier at the old Wembley Stadium to talk to famous competitors while they were warming-up.
"When I see today's tickets priced at £500 and £600 or more I think, 'What?'."
Mr Candlish's tickets cost the equivalent of three hours' wages and were obtained through the running club he belonged to at the time, Wirral AC.
He recalls one of the highlights was watching the Czech long-distance runner Emil Zatopek.
"He suddenly appeared at Wembley. At the time no one seemed to know about him," he said.
"Here was this bloke, the most awkward looking runner that you've ever seen in your life who then proceeded to blow Olympic records to bits."
As well as seeing the stars of the time, Mr Candlish remembers it was the first time he'd heard people cheering for their nation.
"It was the first time I'd ever heard a nation of people, the Swedish, shouting 'Sverige', 'Sverige'.
"It was a new thing to us. I'd never heard anything like that before. I'd heard people clap and cheer but never anything like that.
"The games in 1948 were known as the Austerity Olympics and it was - there was not much there. There didn't seem to be those shops full of souvenirs.
"One of the few souvenirs that I bought was a teaspoon which I took home to my mum."
Related Internet Links
The BBC is not responsible for the content of external sites.