New 20,000-tree woodland opens in Lincolnshire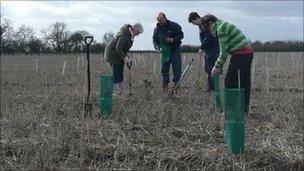 A new Lincolnshire woodland, which has taken more than two years to plant, has officially opened.
Monks Wood near Lincoln covers an area of 15 hectares (37 acres) and has more than 20,000 native trees.
It has been planted by the Nettleham Woodland Trust, with help from schoolchildren, university students and local volunteers.
Trust chairman Chris Williams said to see the transformation in such a short time was "fantastic".
"Two years ago when we started it was just mud," he said.
"And by extending the existing Watts Wood and Pickering's Meadow we have created an area three times the size."
Trust secretary Susie Mendel said it was a "wonderful opportunity".
"We originally started planting a few trees in Nettleham village and at the police headquarters - but when we were offered this space to create a woodland we jumped at the chance.
"It's great to see the trees growing so well after just two years."
The new wood is part of the Ashing Lane Nature Reserve, which is owned by the Lincolnshire Wildlife Trust.
Related Internet Links
The BBC is not responsible for the content of external sites.