Lincoln council defends headstone warning stickers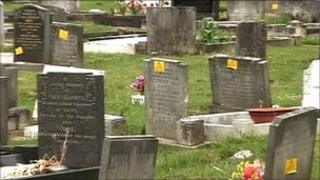 Council officials have been criticised for putting yellow stickers on graves to identify unstable headstones.
The City of Lincoln Council said the stickers were necessary to show to which stones needed repairing as part of a £20,000 project.
However, some families said they were unsightly and did not correctly identify the most dangerous monuments.
The council apologised for any offence but said the majority of those consulted supported the action.
Lincoln resident Christopher O'Brien said he was unhappy to find a sticker on his grandparents' headstone.
He said: "It just seems to be a total waste of taxpayers' money because most of the headstones look incredibly stable.
"Yet there are obvious dangers with collapsing graves and really leaning headstones that haven't got any warning stickers on at all."
Dave Charysz, open spaces officer at the council, responded: "The majority of people have accepted what they are there for. There have only been a small number of complaints but once we have explained to them what the stickers are for they understand and are quite happy with that.
"We apologise to people if they are offended by the stickers. They are quite small but also they need to be noticeable to draw people's attention to the potential hazard until the work is carried out."