Bardney Abbey re-excavation after lottery funding help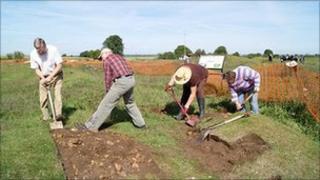 A 12th Century abbey in Lincolnshire is being re-excavated almost 100 years after it was first uncovered.
A grant of £48,300 from the Heritage Lottery Fund is helping towards the costs at Bardney Abbey near Lincoln.
The work to uncover part of the refectory, where the monks ate their meals, will continue through summer with special events for the public.
David Start from the Heritage Trust in Lincolnshire said the dig was a "trial excavation".
"We've got one wall of the dining room we're excavating.
"We have to prove that we can do it competently and see if we can repair it and treat it so it can be left open."
Local volunteers, under the supervision of archaeologists from Archaeological Project Services, will carefully remove the turf to reveal what lays underneath.
The site was originally excavated between 1909 and 1914 by vicar Charles Laing and local labourers.
Mr Start said: "It was at a time when very little was known about what went on at these monastic sites. We now know a lot more.
"The site was covered over in 1933 because it was being damaged, so really we're trying to do something that others have failed at."
Rebellion against king
The current exploratory dig began in 2009 by site owners the Jews Court Trust, along with Bardney Heritage Group and the Bardney Heritage Centre.
Speaking of the history of the site, Mr Start said: "There was a very early monastery at Bardney in the 7th Century.
"It lasted until the Vikings disposed of it around 870 and a new monastery was founded just after the Norman conquest."
The original abbey was the burial place of two saints, King Oswald of Northumbria and King Ethelred of Mercia.
The new monastery is believed to have been founded by William the Conqueror's nephew, Gilbert of Gaunt, in 1087.
In 1536 the monks were involved in a rebellion against King Henry VIII's proposals to close the monasteries.
Several monks were arrested and executed at Lincoln, and the abbey was closed soon after.
Part of the buildings were converted into a house, but this had been demolished by the early 18th Century, much of the stone being taken for use in other buildings in the village.
Members of the public are invited to see the excavation and even pitch in during special event days.