Brookenby residents upset by part-demolished buildings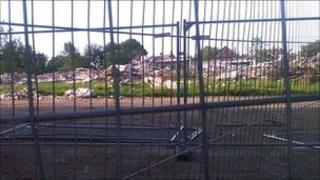 Residents of a Lincolnshire village have said they are "upset by the neglect" of half-demolished buildings and the state of their village green.
Brookenby, near Market Rasen, is on the site of a former RAF base with the privately-owned buildings being part of the original base.
Bernard Bale, Brookenby resident, said one villager had said it was like "Beirut but without the bullets".
Residents have so far been unable to find out who owns the buildings.
The buildings have been derelict since 1987 but in January 2011 work started to demolish them. This has left them in a half-demolished state that has upset some residents.
'Complete mess'
The seven acres of grassland, which is the village green, has remained uncut by the owners.
The parish council said it could not use public money to tidy things up because it was privately owned.
Mr Bale said this has made the area unusable for some.
"The grass is up to our knees. It was normally kept very low.
"It's a nice place for people to walk their dogs, a nice place for people to have a stroll in the evenings and now you just can't do it because it's a complete mess.
"It's supposed to be an area of outstanding beauty round here, but it doesn't look like that."
The BBC has tried to contact the owners of the land for comment, but has been unable to trace them.