Pilgrim Hospital care inquiry into CQC report concerns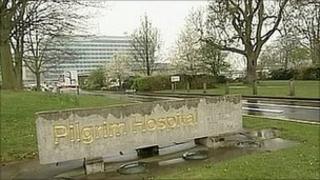 An investigation has begun into the care offered by a Lincolnshire hospital after a report highlighted "major concerns".
The Care Quality Commission (CQC) said Boston's Pilgrim Hospital had not met required standards in 12 of 16 categories.
It focused on failings in meeting nutritional needs of patients and care and welfare of people using services.
The United Lincolnshire Hospitals Trust said it "apologised unreservedly".
CQC inspectors visited the hospital in February but the report's publication had been delayed by a police investigation into separate complaints over care.
However, immediately after the inspection, the CQC demanded improvements and even threatened legal action.
The CQC then criticised the speed of the trust's response and questioned its ability to identify future problems.
In the report, examples of poor standards included a patient who was "very unwell and in pain" but left untreated by medical staff for two days.
Inspectors also found patients were struggling to eat and drink and not being checked on properly by staff, with one having a request for coffee declined because "you've already had two cups of tea this morning".
In addition medical staff told the CQC team they were worried about the staffing levels and quality of staff in the operating theatres.
The report acknowledged some subsequent improvements but said more work was needed.
'Best possible care'
Andrea Gordon, CQC's regional director for the East and West Midlands, said: "The CQC has launched this investigation to determine whether the correct procedures are in place at the trust to pick up problems and make changes quickly so that people receive safe and appropriate care.
"If they are not, we will require the trust to make improvements."
A spokesman for the United Lincolnshire Hospitals Trust said: "We fully accept the CQC's findings and are deeply upset by them.
"We have worked very hard to address all the issues raised by them in March and they have recognised that we have made good progress. We will fully co-operate with the investigation.
"We strive to provide the best possible care for every patient and will work with the CQC to ensure that is the case.
"It is clear that our services have not been of the standard we expect to see and we apologise unreservedly for that."