RAF Cranwell trainee pilots left without jobs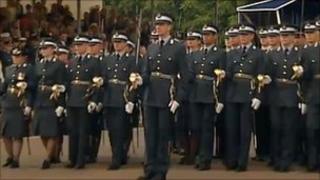 Eight trainee pilots who graduated at a ceremony attended by the prime minister at RAF Cranwell in Lincolnshire will have no jobs to go to.
In February, as part of the government's Strategic Defence and Security Review, the RAF announced 170 trainee pilots would be made redundant.
David Cameron attended the passing-out parade for the 80 cadets on Thursday.
Air Vice Marshal Mark Green said the eight trainees would not be going on to become fighter pilots.
'Moral courage'
AVM Green, who is head of training at RAF Cranwell, said the force had been going through a difficult period.
"We had an over-recruitment in our flying training pipeline as a result of the Strategic Defence and Security Review (SDSR) and so actually some members on parade will not have a future in the branch they joined to do, which was the flying training role.
"But it is testament to their courage and their commitment that they continued with their training, despite the fact that their future was uncertain and I think that's a huge testament to their moral courage."
As a result of the Spending Review, the armed forces need to shed 17,000 posts over the next four years as defence funding is cut.
A review has found that, after natural wastage, a total of 11,000 redundancies will have to be made in three or four tranches.
The RAF was the first service to set out details of its plans, with the first 1,020 jobs going in September.
In a statement, the MoD said: "The SDSR made clear that there will be reductions in the numbers of personnel and aircraft across the three services, including a reduction of some 5,000 RAF personnel by 2015.
"A decision has been taken to remove up to 170 RAF student pilots from the Flying Training Pipeline.
"The criteria being used to select those trainee pilots to be removed from flying training will be a combination of the service need, officer qualities, ground based pilot aptitude testing and flying performance to date."