Spilsby Town FC replay 1881 match to mark anniversary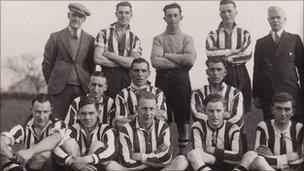 One of Lincolnshire's oldest football clubs is celebrating its 130th anniversary by replaying an FA Cup tie from 1881.
Spilsby Town FC will play Staveley on 21 July in what is a replay of a first round match which Staveley won 5-1.
Committee member Dominic Morgan said the replay was an ideal way to mark the anniversary.
He acknowledged that the team had "their work cut out" to beat Staveley, who are five divisions above them.
"We felt that a replay of such a significant game, which saw us competing in the FA Cup in our first year, seemed to be the perfect way to mark the occasion," he said.
Manager Lathen Tuplin, said: "The average age of the current squad is around 21 and this match will be a good chance for the young squad to appreciate the history and significance of the club to the town.
The average age however is lifted considerably due to Simon Sutton who has been a loyal club servant for longer than he would wish to state.
"And possibly before the birth of most of the current squad."
During the 1881 season Staveley went on to lose in the third round of the FA Cup to Sheffield Wednesday.
For the next three seasons, Spilsby went on to win the Lincolnshire Senior Cup three times in a row and were given the trophy to keep to commemorate their success.
Related Internet Links
The BBC is not responsible for the content of external sites.