Boston fire blast unit producing illegal vodka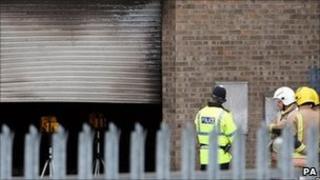 An industrial unit in Lincolnshire, where five men were killed in an explosion, was being used to produce illegal vodka, police have confirmed.
The five victims of the blast in Boston on Wednesday were all Lithuanian nationals living in Peterborough.
It is thought Vaidas Krupenkinas, 39, Laimutis Simkus, 32, Ovidijus Mejeris, 26, Ricardas Gecas, 24, and Erlandas Duzinskas, 18, died instantly.
Police said the exact cause of the explosion was still being determined.
Officers said the unit at the Broadfield Industrial Estate housed a "filtration plant that was being used for the production of illicit alcohol being distributed and sold as vodka".
'Harmful to health'
Det Supt Guy Collings said: "The existence of this enterprise illustrates that there is a market for counterfeit alcohol and we would urge the public to ensure that they only purchase from legitimate sources and check products to ensure they are genuine."
Mark Keal, divisional manager for advice and information at Lincolnshire Trading Standards, said: "When we have seized counterfeit alcohol in the past, it has contained substances such as chemicals used in cleaning products that would certainly be harmful to people's health.
"To reduce the demand for such products, the public really need to be aware that counterfeit alcohol is not a bargain, but illegal and potentially deadly.
"We work with our partners in Lincolnshire Police and HMRC to take these products off the shelves of irresponsible retailers."
A sixth man survived the blast after suffering 75% burns. He underwent surgery at the Queen Elizabeth Hospital in Birmingham.