Villagers sign petition after Royal Mail changes rounds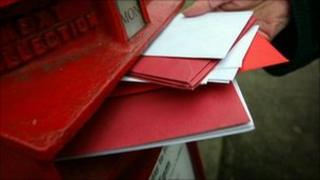 Villagers in Lincolnshire have handed a petition with more than 700 signatures to Royal Mail for a husband and wife to keep their village rounds.
Pete and Jill Garton, who live locally, delivered to Ingham, Cammeringham, Brattleby, Aisthorpe and Scampton.
After more than 12 years' of service they have been given rounds in Lincoln.
Mike Spencer, Chairman of Brackenborough Parish Council, said that local people "are not happy" and think "it is a retrograde step".
'Mail on sledges'
"Royal Mail are having what they call a re-pick which is a re-designation of rounds and Pete and Jill are going to lose their rounds.
"They're local people who live in the area, who are very well respected, and give an absolutely brilliant service and local people can see no reason why it needed to be changed.
"They, themselves, are devastated.
"The issue is that it's the service that they give. In at least two winters when people were unable to get about they've delivered the mail on sledges."
A Royal Mail statement said: "It's always gratifying when our customers recognise the hard work of their postman or woman.
"As part of the changes we are making to Royal Mail services in the Lincoln area some customers may notice that a different postman or woman will deliver their mail.
"However, we can assure customers that all our staff are trained to the same high standards and quality of service will be maintained."