Sleaford murder accused 'showed dead body to sister'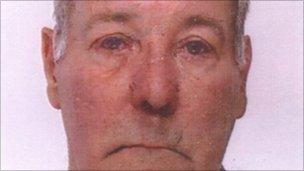 A teenager accused of murdering a pensioner showed his heavily pregnant sister the body, his trial has heard.
The 17-year-old, who cannot be named for legal reasons, denies the murder of David Cowley, who was found dead off Mareham Lane in Sleaford in November.
His sister told Lincoln Crown Court he led her to a remote location near Ballast Pits, where she saw a dead man.
The prosecution claims the teenager planned to rob the 67-year-old after arranging to meet for sex.
Amjad Malik QC told the jury that the victim was an openly gay man who had offered cash and mobile phone top-ups to the youth in exchange for a sexual liaison.
Mr Malik said that after asphyxiating the pensioner, the boy stole the victim's Smart car as well as other belongings including a mobile phone and a ring.
The 17-year-old's sister, who at the time was due to give birth, told the jury that she walked with him to Mareham Lane after he said he had something to show her.
She said that when they arrived at the scene it was pitch black.
She told the court: "It was pretty frightening. I saw this person on the floor. I didn't want to look. It was pretty frightening.
"I laughed. I was about to give birth to my little boy and there was this dead man in front of me. It didn't seem real. It didn't really sink in that there was a dead person there."
A second 17-year-old boy has admitted handling Mr Cowley's mobile phone.
But he denies perverting the course of justice by disposing of the phone and making a series of misleading statements to police between 15 and 21 November.
Related Internet Links
The BBC is not responsible for the content of external sites.