Jury sees David Cowley 'sex meet murder spot'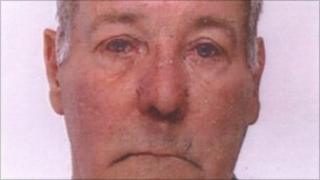 A jury in the trial of a teenage boy, accused of murdering a man he arranged to meet for sex, has visited the alleged murder scene in Lincolnshire.
The 17-year-old, who cannot be named, denies the murder of David Cowley, 67, who was found dead off Mareham Lane in Sleaford in November.
The 12 members of the jury were taken by bus to the remote location known as Ballasts Pits.
They were accompanied by court staff, barristers and the trial judge.
The court heard Mr Cowley, of Broadfield Lane in Boston, was dragged from his car and punched and kicked by the boy, who had planned to rob him of his vehicle and other possessions before killing him.
Abandoned car
Amjad Malik QC, prosecuting, said that after asphyxiating the pensioner, the boy stole the victim's Smart car as well as other belongings including a mobile phone and a ring.
The court has heard he abandoned the car after crashing it in Southgate, Sleaford.
The defendant denies the murder of Mr Cowley between 15 and 18 November 2010.
A second 17-year-old boy has admitted handling Mr Cowley's mobile phone.
But he denies perverting the course of justice by disposing of the phone and making a series of misleading statements to police between 15 and 21 November.
The trial continues.