Lincolnshire man jailed for dumping one million used tyres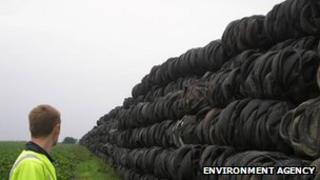 Officials have warned of the penalties for waste crime after a Lincolnshire man was jailed for 15 months for dumping more than one million tyres.
At Lincoln Crown Court on Monday, Carl Steele, 33, from Chapel Farm, Deeping St Nicholas, admitted breaking the terms of his environmental permit.
He offered cheap collections and dumped tyres at sites in Lincolnshire, Essex, Yorkshire, Worcestershire and Norfolk.
The Environment Agency said offenders faced up to five years in prison.
It added that tyre dumps presented a serious risk to the environment and human health.
Fire risk
The court heard that Steele was under investigation by the Environment Agency after officers found 3,000 tyres at a site in Lincolnshire.
During the investigation the number rose to 400,000, but he was only allowed to store 6,000.
Investigators later uncovered 800,000 used tyres at four other dumping sites.
Mat Crocker, from the Environment Agency, said: "Stockpiles [of tyres] are a significant fire risk, as they can burn for several years, releasing dangerous gases such as hydrogen sulphide, hydrogen cyanide and sulphur dioxide.
"Waste crime is a serious offence with tough penalties including up to five years in prison, unlimited fines and the confiscation of illicit profits."