Boston Stump restoration benefits from stone names appeal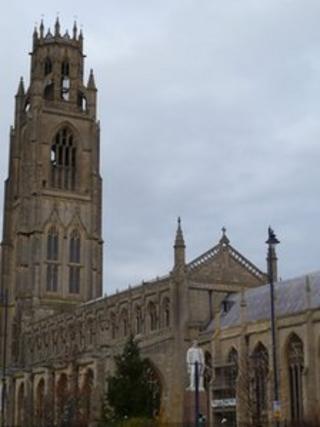 Staff at a Lincolnshire church are raising funds towards its restoration by giving people the chance to buy a carved stone with their name on.
The sponsor a stone project at St Botolph's in Boston has already raised more than £3,500 and has even attracted one buyer from America.
Appeal manager, Peter Coleman, said the church, also known as Boston Stump, was one of the most popular in the UK.
He said the project had attracted a lot of public interest.
American history
"The project gives people the chance to have something that will last for hundreds of years and there are a lot of people who have visited the church who want to help with the restoration project, said Mr Coleman.
He said: "We are always looking at new ideas and this one has been very successful - the American buyer was related to one of the church's original founders, Sir John Truesdale, who was vicar here when the foundation stone was laid in 1309.
"We are hoping when word spreads in the States that it may lead to other people donating."
Boston Stump's stone mason, Phil Leonard, said the new stones would be positioned at a height of 150ft (45m) on the north side of the church.
He said they would be used to repair a parapet wall.