Former Red Arrow rejoins following pilot's death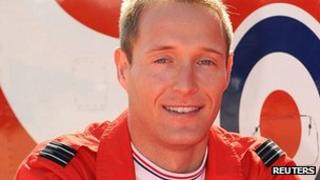 A former Red Arrows pilot is rejoining the display team following the death of Flt Lt Sean Cunningham.
The 35-year-old pilot was killed after being ejected from his Hawk T1 aircraft while it was on the ground at RAF Scampton on 8 November.
Squadron Leader Martin Higgins will take his place for the 2012 display season.
Sqn Ldr Higgins' position will be taken up by Squadron Leader Mike Ling who was injured and left the team last year.
Squadron Leader Ling, formerly Fl Lt Ling, was injured in March last year while ejecting from his Hawk aircraft during a training exercise in Crete.
He needed a wheelchair during his rehabilitation but started flying again in September last year, as a passenger with his Red Arrows team mates.
Charity ride
The keen motorcyclist organised a charity Vespa ride from Lands End to John O'Groats, which he and his team mates took part in at the end of their 2010 display season.
He left the team in October last year at the end of the usual three-year tour of duty and went to Abbey Wood in Bristol to work on the RAF's new flight training system.
The Red Arrows team was cleared to fly again this week after a safety review prompted by Flt Lt Cunningham's death.
The Ministry of Defence has authorised the resumption of all Hawk T1 flying operations without restrictions.