Lincoln County Hospital heart unit to double in size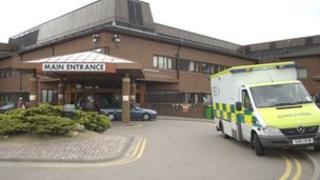 Lincoln County Hospital is to spend more than £4m expanding its heart unit.
The hospital said the investment would double the size of its existing unit and allow it to buy new equipment and take on extra staff.
Doctors said they hoped to make primary angioplasty, in which a small balloon is used to clear blocked arteries, available to more people.
A £4.3m loan from the Department of Health means work can begin on the expansion in the new year.
Currently, the primary angioplasty procedure, also known as PPCI, is only available to people living in a catchment area around the hospital.
'24-hour service'
The expansion will see the surgery made available to patients across the county.
Consultant Dr David O'Brien said: "The current heart centre has been really effective. In addition to providing an emergency PPCI service, in the last year alone the catheter laboratory has also carried over 500 elective and inpatient angioplasty procedures.
"We've also carried out more than 1,000 angiograms and implanted around 150 pacemakers for patients across the county.
"We want to build on this success by investing in a £4.3 million specialist unit that will be double the size of the current unit.
"The number of specialist staff will also increase to enable the heart centre to provide a PPCI service 24/7, 365 days a year."