Spalding food bank gears up for busy Christmas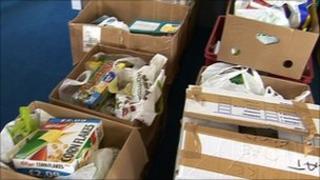 A food bank in a Lincolnshire market town is experiencing unprecedented levels of demand.
The food bank in Spalding, run by South Holland Agape Care, is delivering almost 80 food hampers to families for Christmas.
Spalding food bank spokesman Paul Walker said: "It has been phenomenal just how busy it has been."
He said demand for the food bank was increasing as people are hit by benefit delays, ill health and unemployment.
Mr Walker said: "We don't support the homeless but we do support families that are struggling to cope financially because of a variety of problems.
"This month has been so busy it has been unprecedented really."
Spalding resident Rachel Pollard said: "I had no money for four weeks and the food bank stepped in and helped me out."
The hampers contain mints, Christmas crackers, stuffing, crisps, chocolate, pasta, baked beans, bottled drinks, milk and cakes.
In Grantham, the local food bank was handing out enough food to feed about 25 people in early December and expected the number to double in January.