Wragby pool to close in weeks say volunteers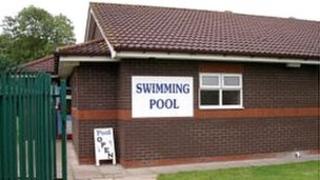 A community swimming pool in Lincolnshire will close unless new funding is found, managers have said.
Wragby Swimming Club said it has run out of time and ideas to meet rising running costs.
Despite personal loans, an increase in admission prices and losing a lifeguard, the 15 metre pool could be shut by the end of January.
The club said the biggest losers would be dozens of local school children who took swimming lessons every week.
Built in 1998, the pool was taken over by volunteers three years ago.
Local support
Since then, they said, they had struggled with a maintenance backlog and soaring fuel costs.
On top of this, poor weather last winter closed the pool for several weeks and meant they lost £3,500 in income.
An emergency meeting in December brought in a number of changes, including reduced opening hours, but the situation is still critical.
Treasurer of the Wragby Swimming Club Fred Wickert said: "At the present moment, if we do not get money in this month to pay for oil and fuel - we just had a £949 electricity bill come in - it is fully liable to close at the end of the month. We are that close."
He added: "We feel terrible. Last winter we loaned the pool £3,500 to keep open. We haven't had that back and we can't do it again."
Janet Inman, from Lincolnshire Sports Partnership, said they had been trying to help the club.
"If people use their local facilities we do not have this problem, it is about getting people through the door and paying to use them.
"Wragby has fantastic facilities, there aren't many towns in Lincolnshire that can match them but the people of Wragby have to support them."