Tattershall boy Anthony Steele told take down pirate flag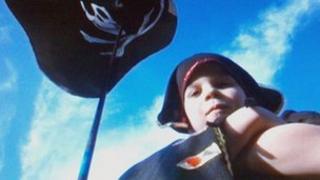 A seven-year-old boy has been told to take his pirate flag down from his garden because a council has said it breaches planning rules.
Anthony Steele, who has Asperger's syndrome, had to remove his Jolly Roger flying in Tattershall, Lincolnshire.
East Lindsey District Council sent his family a letter saying it had to be taken down because of national planning regulations.
A spokesman said it had acted after a complaint was made about the flag.
Mother Sara Steel said: "He doesn't understand why this flag has got to come down. I've shown him the letter from the council.
"With all due respect to East Lindsey District Council they are purely acting on a complaint they've received. I think it's the harshness of how they dealt with it that's caused the issue."
'Amazing kid'
Ms Steele's partner Ronnie Ford-Kennedy said Anthony should be left alone to have the flag and play.
"Anthony is an amazing little kid with such a vivid imagination," Ms Ford-Kennedy said. "He's so passionate about everything.
"It's a kids toy and I'm just lost about why someone would want to complain about it."
A council spokesman said it had to tell the family to remove the flag but the authority would not be taking any further action.
"A pirate flag in a garden on a child's play equipment should not be against planning regulations and we'd appeal to the government to review this section of the advertising regulations," he said.
"This is a situation where we'd rather the family could fly the flag legitimately but planning law states they need advertising consent to do so.
"We are happy to offer advice on the types of flag they can fly without permission."